1. Size Options: 3ft x 5ft, 

3ft x 6ft, 4ft x 7ft 6ft x 8ft, 6ft x 13ft

2. All our artificial grass turf is made of high-quality anti-aging particles with masterbatch which has been tested for color degradation, durability, and fire resistance.

3. The 100% eco-friendly synthetic grass area rug with rubber-backed which is non-slip and has no trouble of mowing, fertilizers or pesticides. Besides, it is mold proof and fadeless with UV resistance and corrosion resisting.

4. The artificial grass carpet provides great decoration for both outdoor and indoor areas with a beautifully natural appearance and high-temperature resistance by multi-color woven. (Tips: When laying multiple pieces of artificial turf, please keep the grass piles in the same direction, which makes sure the color looks consistent. The piles in different directions will create differences in visual color, but in fact, our turfs of the same size are almost the same color.)

5. Products are 100% brand new. (Tips: Please shake the grass rug several times in order to remove the little debris when you receive our GOLDEN MOON artificial grass rug. You can also cut the grass rug to fit your exact requirements.)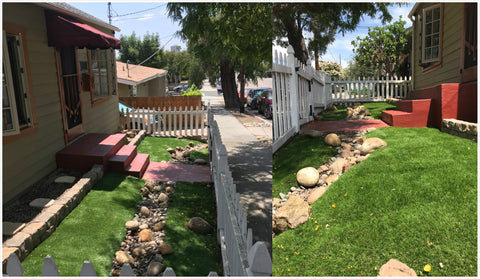 Golden Moon exclusive garden Artificial Grass Rug makes your garden like spring all the year-round. Also great for outdoor activities, such as parties, weddings, camping, picnics, etc.
All materials are environment-friendly and the surface can be recycled. We only use 100% new materials which makes our products safe and non-toxic, thus it can be used for children or pets, and it can be used in various occasions such as kids' rooms, kindergartens, and so on.
Recommended Maintenance: Rinse and groom as needed to limit matting
Matting Disclaimer: by the nature of the composition, Synthetic grass will have some matting possibilities. It's important to discuss the level of use with your installer to ensure you've chosen the right product for your needs. Matting is not covered under the warranty.
GOLDEN MOON - Brand And Safety Certificate